Start Your Individual Strike Fund (ISF) Today!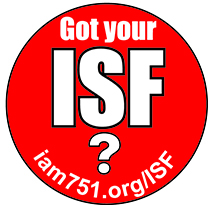 Click here for step by step instructions to Set Up Your ISF Payroll Deduction!
Our strength at the bargaining table when we face The Boeing Company in 2024 is a direct reflection of solidarity and preparation of our membership.

The time to plan for a strong future is NOW! Start your Individual Strike Fund (ISF) savings account today with a new payroll deduction to savings to give us strength in 2024! (click link above for step-by-step instructions)

Even though the 2024 contract is five years away, it is important to begin preparing now. Personal savings are always necessary should we face a decision on whether to strike or not. Remember, the goal is always to achieve a contract offer that we can accept. In order for our members to be in the best bargaining position, personal savings are key to confidence and security when it matters most.

Talk with co-workers and let's get everyone thinking ahead. Early preparation five years out means you will be ready to stand up to achieve the contract you have earned.

If you direct $50 every paycheck into your ISF, you will have more than $6,000 when our contract expires in 2024!